The Corda development community continues to build awesome new CorDapps harnessing the best of Corda. Do check out the latest addition, Parnika Sharma's (BCS Tech) property listing CorDapp which showcases the power of an RDBMS running on a distributed ledger. We'll be adding this to the growing list of Corda samples soon.
Meanwhile Corda 4 and Corda Enterprise 4 is taking shape, and a sneak peek at the content reveals a host of compelling new features and further improvements to the developer experience: contract constraints are a part of how Corda manages application upgrades and we're adding the ability to constrain to any attachments signed by a specified set of cryptographic keys. 
This is an easier constraint method to use and requires less choreography between node administrators; support for multiple Corda nodes behind a single firewall, part of the strategy to reduce hosting costs; hardware security module support for safeguarding node cryptographic keys; a more consistent developer experience across the code (for example, error logging and the command line interface); improvements to the administration of a node's membership to a Corda network, and – of course – we will be maintaining our high bar for the standard of documentation with further improvements to make it better than ever.
---
Bootcamp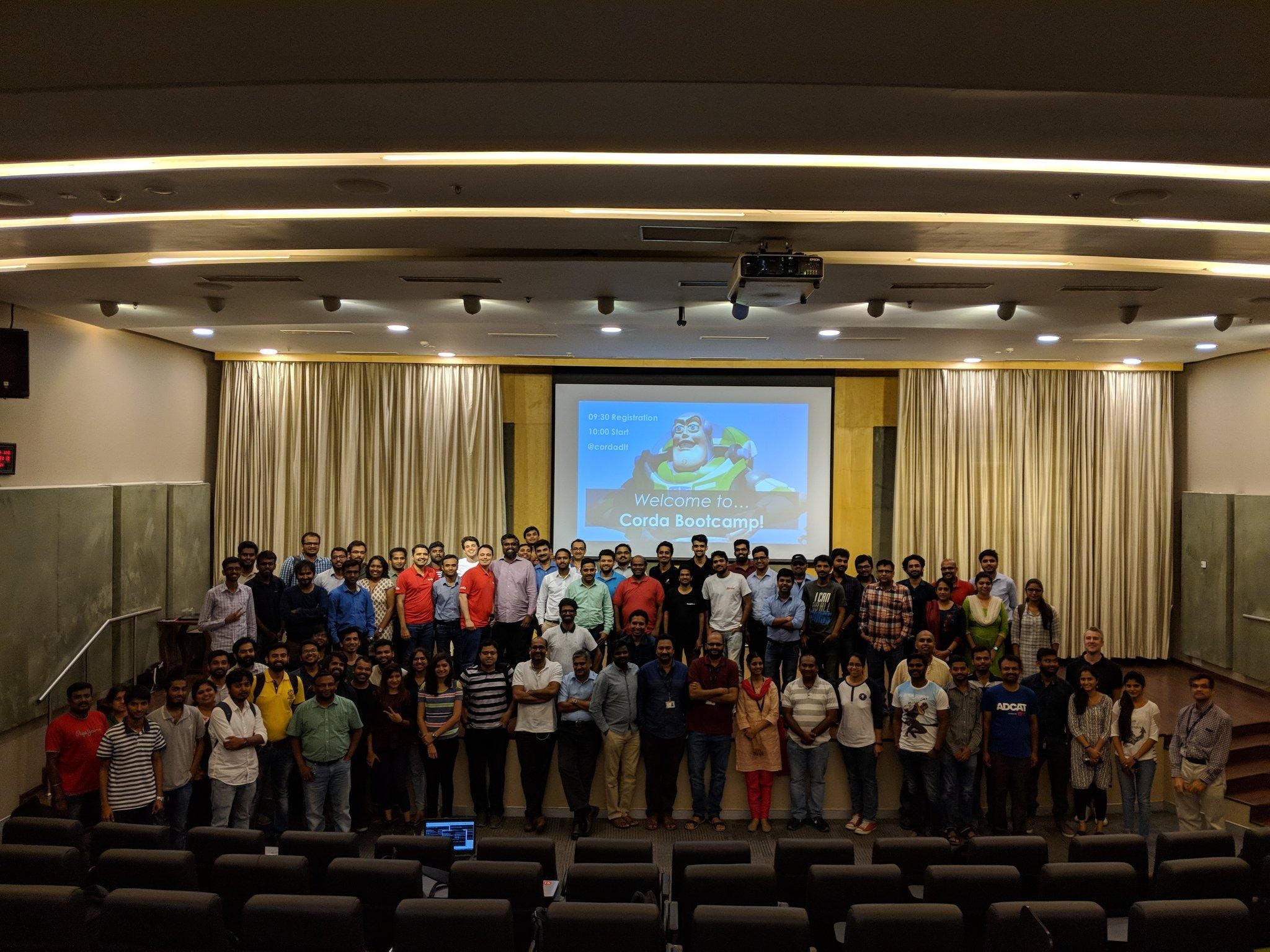 R3's Corda developer relations team is back on the road! Building on their massively successfully Bootcamp events held in major cities around the world earlier in the year, the team will be stopping off in more global locations in October to help you learn more about (and get the most out of) Corda.  Do take a look at the list of Bootcamps in the Upcoming Events section below to register for your nearest city and join our Corda experts for a no-cost evening of hands-on training, where any developer can arrive with their laptop and leave with a CordDapp.

---
Partner Spotlight
 Corda Enterprise Blockchain is now available on AWS! This Quick Start automatically deploys a Corda Enterprise node in a new or existing virtual private cloud (VPC) on the AWS Cloud in about 30 minutes. Corda Enterprise on AWS is a production-ready implementation of a Corda Enterprise node, which offers built-in resilience and high availability and which can scale as the needs of the node operator change. This partnership opens up CE availability to AWS' 55,000+ partner network. Read all about it here.
---
R3search Rollout
In energy, R3 responded to the US Senate hearing regarding the energy efficiency of blockchain technology. The article in Brink, "Bitcoin is a Red Herring in the Discussion of Blockchain Energy Efficiency", found that blockchain could aid the integration of smaller suppliers into the energy grid and enable provenance tracking of renewables.
We now have 18 public papers available for download, written by authors such as Vitalik Buterin, Ian Grigg, JP Koning, Rodney Garratt, Neepa Patel, and many other blockchain thought leaders! In capital markets, R3 Research has privately published "Building Blocks for Better Compliance: Can Blockchain Decrease the Burden of Financial Regulations?", which focuses specifically on the recent MiFid II regulation in Europe. Members can access private papers here.
---
Life in the Fast Chain
Have you listened to our blockchain podcast yet? Check out our latest episode (online, iTunes, Spotify, Google Play, Overcast, etc) with Impact Chain Lab's CEO and co-founder, Aishwarya Balaji. Aishwarya comes on to discuss how she got into the blockchain space, her company's goals, their new project Bystander, and more.
If you haven't listened to our last special, check it out! This special episode features R3's Mike Hearn who talks about the Corda platform, the Corda network, his vision for the future of Corda and the potential future intersection of the blockchain, IoT, AI, and other emerging technologies.
To stay tuned, be sure to check out the podcast on your favorite app! 
---
Corda Certification
Certification can be obtained by passing the Corda Certification exam with a score of 75% or better. If you have attended a Corda developer training session or have equivalent experience, you should be well-equipped to take the exam with some additional independent study.
Developers who pass will receive an invitation to claim a digital badge that can be shared on social media and with the developer community at large.
Ready to take the exam?
https://www.chatsworthcommunications.com/wp-content/uploads/2018/09/Screenshot-2018-09-17-16.31.09.png
201
747
ChatsworthCommunications
https://www.chatsworthcommunications.com/wp-content/uploads/2015/09/cc-Logo-FC2.png
ChatsworthCommunications
2018-09-17 15:35:38
2018-09-18 16:38:29
R3 Ledger